You have found the website of one of the largest and most beautiful collections of antique safes in Europe.
In recent years, these magnificent antiques are enjoying growing interest and therefore it is becoming increasingly difficult for us to find beautiful and still affordable pieces. Currently our collection contains many different safes, most of them unrestored.
Most of the interested people come to visit us and choose one of the unrestored safes, which we then tailor to the customer's wishes. Our small manufactory can restore at most one or two safes per month.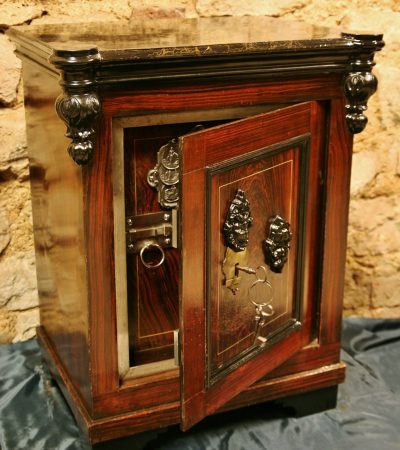 History of safes
Early wooden chests which served to protect precious objects already existed in ancient Egypt at the Pharao's court. In the Middle Ages iron-clad chests were used to protect important archives, relics or other treasures.
Safes have always been show-pieces as well, which at the beginning could only be found amongst the high aristocracy and the clergy. In addition to containing valuable assets, they were also important status symbols, only affordable for the rich and powerful of this world.
Even in the nineteenth century, when the first safe factories emerged, iron safes were still unattainable to the great majority of the population. The purchase price for a safe at that time was already a multiple annual income of a worker.
At the beginning of the 19th century, there were still small manufactories in Paris, Milan and Amsterdam, where the master blacksmith and his assistants constructed just a few safes each year.
However, as a result of the economic boom, there was an increasing need for capital, and besides coins, paper money became increasingly important. At that time it was no longer nobility and clergy but industrialists and entrepreneurs who shared money and power. After 1850, the industrial revolution created more and more safe factories where safes could be produced in large numbers.
As bank notes became increasingly important, the fire-protective function of the safes also became more important. This changed the design of safes. Hollow walls were constructed, which in turn were filled with heat-resistant materials. More and more inventions and patents to improve the safes were registered and they became gradually more functional and less decorative, and so less interesting as a collector's item.